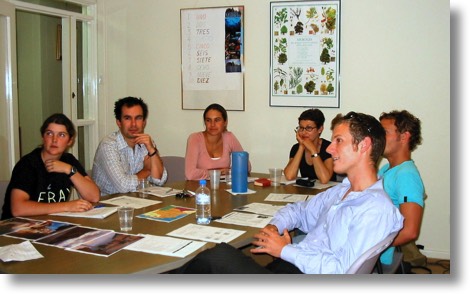 OUR COURSES
Courses are offered for absolute beginners and for those with some prior knowledge of the language.
BEGINNERS
The starting point: this course uses our proven introductory method for a sound beginning in learning Spanish for work, further study, travel or general interest. We deal with basic vocabulary, pronunciation and structure.You'll develop the building blocks to deal with everyday situations in Spanish, and the skills to resolve language difficulties.
BEGINNERS 2 & 3
Following the introductory course you may continue through two further beginner levels to consolidate a basic ability in Spanish.
INTERMEDIATE
When you have completed this level you will be comfortable and increasingly fluent in speaking Spanish, you will have a competent vocabulary, and be aware of correct usage and structure.
ADVANCED AND CONVERSATIONAL
We offer a variety of more specialised tuition, whether you seek additional tutoring for college or university Spanish, or to maintain and improve advanced conversational skills.
SPANISH EASY IS BASED AT GRIFFITH IN THE "INNER SOUTH" OF CANBERRA, A.C.T.

We offer tuition for beginners to more advanced levels, high school & college students, and conversation groups. Contact us on (02) 5100 4464 or 0419 705 473 (or email as below).

SPANISH EASY
CANBERRA, AUSTRALIA
WINTER-SPRING 2020:
WE OFFER CLASSES
BOTH FACE-TO-FACE
at Griffith
(Inner South, Canberra)
AND ONLINE
with the same
Spanish Easy
commitment to
fun and effective
learning!

—NEW—
SPANISH for BEGINNERS
at GRIFFITH
MONDAYS 6.30 pm
starts 19 OCTOBER
for 8 weeks
$310 includes materials
(no more to buy)

A range of
course levels
are available, see
our Timetable

for more details
phone 0419 705 473
or inquire online.