Spanish Easy: Canberra's best small-group Spanish language specialists… now over 20 years old!
Small classes, personal attention, lots of participation, native Spanish-speaking tutors: that's what is special about learning the SpanishEasy way…
In-person classes are held at GRIFFITH (Inner South, Canberra) with appropriate public health precautions, we are also continuing some classes online. See the
Timetable
for details.
Call us, we're happy to talk further! Phone 0419 705 473 (Nancy) or further contact details are below.

SPANISH CLASSES FOR ADULTS
and
SPANISH TUTORS FOR COLLEGE & HIGH SCHOOL STUDENTS
see the Timetable for classes or call us.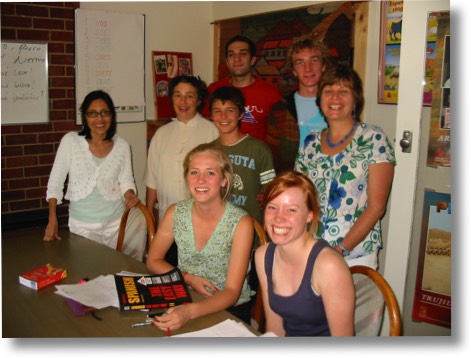 SMALL GROUPS
Beginners' classes are for up to 12 students. Classes for subsequent levels are even smaller. Our 'roundtable' small groups ensure individual participation, interaction and consistent progress in a friendly and relaxed atmosphere. It's the Spanish Easy way!
TEACHERS
Our tutors are 'native' Spanish speakers (Spanish is their first language), from various parts of Latin America as well as from Spain.
TIMETABLE
Adult group classes are held in the evenings (Monday to Thursday) from 6.30 or 7.00 pm for about 90 minutes, depending on class size. Private tuition and other classes, including high school & college students, are held during the day or early evening Monday to Friday for an agreed duration.
Our courses are designed for people who want to learn Spanish for business, travel or simply enjoyment of one of the world's most attractive (and useful) languages.
SPANISH EASY IS BASED AT GRIFFITH IN THE "INNER SOUTH" OF CANBERRA, A.C.T.

We offer tuition for beginners to more advanced levels, high school & college students, and conversation groups. Contact us on (02) 5100 4464 or 0419 705 473 (or email as below).

SPRING :
from October 2021

NOTE: Locations are shown for classes,
in expectation of ACT public health orders
permitting face-to-face learning very soon.
If necessary, classes will start online.

NEW CLASSES!

See the Timetable
page for details.
BEGINNERS-INTRODUCTORY
COURSE
face-to-face at
GRIFFITH
STARTS 20 OCTOBER
WEDNESDAYS 6.30pm
each Weds evening
for 8 weeks
VERY SMALL CLASS SIZE!
Fee $310 includes
our own course book,
nothing more to buy.
-only 3 places remain-
inquire or enrol

—o—
A range of
course levels
are available, see
our Timetable
phone 0419 705 473
or inquire online.

WE OFFER CLASSES
BOTH FACE-TO-FACE
at Griffith
(Inner South, Canberra)
AND ONLINE
with the same
Spanish Easy
commitment to
fun and effective
learning!